Experience Unconditional Luxury At Ikos Aria All-Inclusive Resort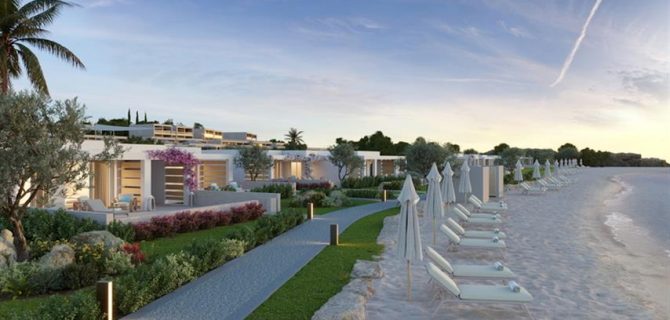 Have you been dreaming of luxurious family holidays, but don't know where to start? With Design Holidays, you can experience unconditional luxury at Ikos Aria All-Inclusive Resort.
The resort offers an impressive range of services that are sure to exceed guest expectations. Guests can enjoy impeccable service, exquisite dining experiences and a wide variety of entertainment options that will leave them in awe. With its all-inclusive concept, Ikos Aria ensures that guests have nothing to worry about except for enjoying their time at the resort.
This resort is renowned for its high-end amenities and services, plus a vast array of activities that will ensure a memorable and enjoyable holiday for everyone. Enjoy the highest quality holidays available and unbeatable prices with Design Holidays' vast buying power. Let us help you book that dream luxury holiday you have always wanted—all at an affordable price!
Overview Of Ikos Aria Resort
Ikos Aria Resort is an all-inclusive luxury resort located in the stunning Mediterranean. Ikos Resorts is part of its Deluxe Collection, which has become renowned for its outstanding levels of service and luxurious amenities. Guests at Ikos Aria can look forward to a range of lavish facilities, including the world-renowned Ikos Spa and private pools in each room.
The included services at Ikos Aria are second to none, with all meals and drinks provided as part of your stay. There is also a range of activities provided by Anne Semoni, the resort's dedicated activity coordinator, from yoga classes to water sports. The resort also offers guests an array of entertainment options from live music performances to themed nights. For those who just want to relax, there are plenty of places to do so – from sun loungers on the beach or around the poolside to exquisite fine dining restaurants for that special evening out.
Whatever you choose to do during your stay at Ikos Aria Resort, you can be sure that you will experience true luxury with every aspect taken care of by their expert staff members. From world-class spa treatments to al fresco dining experiences under the stars – this is a holiday destination you won't soon forget!
Luxury Amenities & Services Offered By Ikos Aria Resort
At Ikos Aria Resort, guests are invited to experience unconditional luxury. The Ikos Deluxe Collection offers a variety of amenities and services that will provide a luxurious experience. From spa treatments to indulgent poolside dining options, guests can relax and take pleasure in their stay.
The resort also offers a variety of spa packages designed to soothe both mind and body. Guests seeking rejuvenation can indulge in a selection of treatments such as massages and facials, all with the goal of providing an atmosphere of relaxation. Additionally, the Unconditional Luxury Concept provides guests with an array of activities such as yoga classes and wellness programs that can be tailored to individual needs. For those looking for an even more luxurious experience, there is also the option of booking one of the private villas or suites, where they can enjoy an intimate setting with all the comforts of home.
From spa treatments to private villas, Ikos Aria Resort offers something for everyone looking for a luxury getaway. With its extensive range of amenities and services, visitors are sure to find something that suits their needs while enjoying the ultimate comfort and relaxation.
Uniquely Designed Accommodations At Ikos Aria Resort
Ikos Aria Resort offers guests deluxe collection suites and unconditional luxury. Each suite is uniquely designed and thoughtfully appointed to provide the utmost comfort and convenience. Guests can enjoy a selection of local restaurants and bars, in addition to the Ikos Spa by Anne Semonin, providing an array of treatments for ultimate relaxation. Qualified staff are on hand to help with any request or query, ensuring guests enjoy their stay to the fullest.
The resort also boasts its own private gardens, perfect for a stroll or a spot of sunbathing. The Deluxe Collection at Ikos Aria further elevates the guest experience with added benefits such as exclusive villas and private pools as well as complimentary transfers from the airport to the resort. With so much on offer, guests can relax knowing they will be indulging in an unforgettable experience at Ikos Aria Resort.
Dining Options At Ikos Aria Resort
Design Holidays brings you the ultimate luxury experience at Ikos Aria all-inclusive resort. With seven restaurants offering specialities from Michelin-starred chefs, stunning sea views, verdant gardens and turquoise waters, Ikos Aria provides exceptional dining options for all its guests.
Children can enjoy their own dedicated kids' club while experienced mixologists create delectable cocktails for adults to enjoy in their luxurious settings. From traditional Greek cuisine and international flavours to a range of vegan dishes, there is something to tantalize every taste bud. For those wanting a truly unique and luxurious experience, there are also dining experiences available on the beachfront with private candlelit tables or a romantic dinner under the stars.
From elegant fine dining to casual poolside lunches surrounded by stunning scenery and exquisite meals crafted by world-renowned chefs, Ikos Aria has something for all tastes and budgets. Whether it's a romantic evening for two or celebrations with friends, the resort offers a truly unforgettable culinary journey that won't be forgotten in a hurry.
Spa Experiences At Ikos Aria Resort
Design Holidays offers customers a chance to experience luxury at Ikos Aria All-Inclusive Resort in Greece. One of the most unique features at the resort is its spa experiences, available to Deluxe Collection Guests, which also include experiences ranging from local drive adventures to exclusive beach areas and more. With a Deluxe Concierge service, guests are taken care of with all their needs catered for while they relax and enjoy their holiday. The Anne Semonin Spa offers guests an array of treatments and massages plus other services like manicures and pedicures, all at an extra cost. Guests can also bring their little ones as childcare and entertainment options are available as well while they enjoy their spa experiences.
Activities & Excursions Available At Ikos Aria Resort
Design Holidays offers a range of activities and excursions at the luxurious Ikos Aria Resort. With its premium all-inclusive services, guests can enjoy a variety of sports and recreation in a stunning Greek island setting. Onsite amenities include two tennis courts, an outdoor pool, and a comprehensive fitness centre. For those more adventurous, the resort also provides mountain biking opportunities in the local area.
For guests looking to explore beyond the immediate vicinity of the resort, Kos Town is just 10km away from Ikos Aria offering plenty of sightseeing and shopping options as well as access to nearby beaches with crystal clear waters. The Guest Relations department at Ikos Aria can provide information about local attractions on the beautiful island of Kos including excursions to some of Greece's most picturesque villages or even boat trips to nearby islands. Whatever your interests, you can experience it all here at Ikos Aria-unsurpassed luxury for an unforgettable holiday experience!
Shopping Opportunities At Ikos Aria Resort
Design Holidays offers a wide range of luxury all-inclusive resorts that provide guests with an unforgettable experience of unconditional luxury. Ikos Aria Resort is one such resort, where you can relax and enjoy shopping in a picturesque location surrounded by private gardens and dazzling views.
At Ikos Aria Resort, guests have access to a variety of amenities, including two neck shops, offering a selection of local produce, souvenirs and accessories. The resort also features designer boutiques, which offer fashionable clothing for both men and women as well as jewellery and cosmetics. Guests can browse the latest collections from international brands or purchase items from renowned Greek designers who create unique pieces inspired by their country's culture and heritage. Furthermore, if you're looking for gifts to take back home or special mementoes to remember your stay at Ikos Aria Resort, there are several shops offering a wide selection of items.
Why Ikos Aria Resort Is Perfect For Families
Design Holidays is the perfect choice for families looking for an unforgettable experience, offering luxury accommodation and all-inclusive services for every family. Located in the stunning Halkidiki region of Greece, it provides a wonderfully tranquil atmosphere and access to some of the country's best attractions.
Families can enjoy a range of activities that suit everyone's needs, from swimming pools and beachfront activities to water sports like windsurfing, kayaking and snorkelling. There are day trips to explore nearby archaeological sites or take a leisurely stroll around the resort's gardens and terraces. The resort also has its own shopping centre with boutiques selling everything from clothing and souvenirs to local delicacies.
Ikos Aria Resort is also home to eight exquisite restaurants serving award-winning cuisine from across the globe, including Mediterranean dishes from Italy, France, Spain and Greece. With attentive staff on hand throughout your stay, you can enjoy all manner of experiences without having to worry about a thing. Whether you choose a private villa with stunning views or a family room with unlimited access to all amenities of the resort – Ikos Aria Resort promises an unforgettable experience for everyone in the family.
Ikos Aria Resort's Unique Childcare & Kids Club Services
Ikos Aria Resort offers unique childcare and kids club services that make it the perfect destination for families.
Our expert travel staff have hand-picked all our range of luxury holidays to bring you the highest quality holidays available. We understand the needs of families when it comes to a holiday, so we strive to go above and beyond in ensuring that your stay is nothing short of extraordinary. With the resort's dedicated Kids Club Services, children can enjoy a wide range of activities and fun under professional supervision while parents relax and enjoy their time away from home. Furthermore, the team is available throughout your stay to help with any queries or concerns you may have during your stay at Ikos Aria Resort.
Nightlife & Entertainment At Ikos Aria Resort
For those looking for a luxury holiday experience, Ikos Aria Resort has something for everyone. From its unique childcare & kids club services to its nightlife & entertainment options, the resort provides an array of activities and experiences guaranteed to please even the pickiest of travellers.
The resort offers a variety of nightlife and entertainment options such as an outdoor movie theatre, live music shows, and a beach party every week. The outdoor movie theatre allows guests to watch their favourite films under the stars while listening to surround sound music. Live music shows feature both local and international artists, allowing guests to experience some of the best musical talents. The beach party is held every week and features special guests like DJs, dancers, and stilt walkers. All these activities guarantee guests will have plenty of fun during their stay.
Ikos Aria Resort also features luxurious amenities such as spas, restaurants, bars, pools, beach clubs and much more that make it easy to unwind after a long day of adventure or sightseeing. With all these features combined with exquisite service from experienced staff members who are always ready to help out with any request or need you may have during your stay – Ikos Aria is truly one-of-a-kind when it comes to luxury holidays.
Booking Your Luxury Holiday at Ikos Aria All-Inclusive Resort
When you choose Ikos Aria All-Inclusive Resort, you are choosing an unforgettable experience of luxury and relaxation. Ikos Aria is an award-winning resort that offers a variety of amenities and services to make your stay truly special. From exquisite dining and nightlife options to endless activities and entertainment, the resort provides all guests with a truly luxurious experience.
Design Holidays can provide excellent service to make your stay even more luxurious. Our expert team has vast experience in providing Luxury Family Holidays at the best possible prices. With our buying power, we are able to negotiate the best rates for our clients, plus a room upgrade for added comfort and convenience during their stay. And if you're looking for a luxury family villa, or other accommodation option, our team is ready to help you find the perfect holiday destination without breaking your budget.
At Ikos Aria All-Inclusive Resort, you have the opportunity to indulge in an unforgettable experience of luxury and freedom – all while enjoying exceptional quality service from Design Holidays at an affordable price. Contact us today at enquiries@designholidays.co.uk or call 01444 872 200 to discover why so many people choose this amazing resort for their dream holiday getaway!
Related Articles