Experience Unconditional Luxury at Borgo Egnazia Resort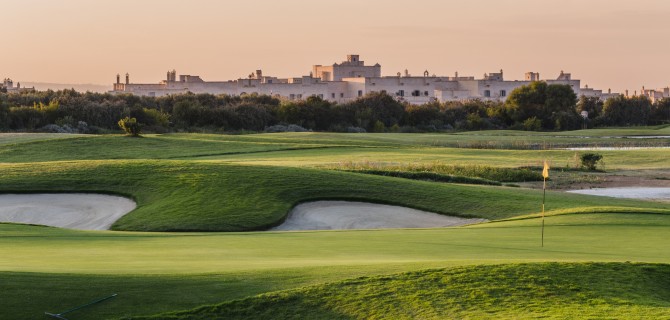 Located in the ancient city of Fasano, Italy, Borgo Egnazia Resort is surrounded by olive groves and rolling hills, featuring swimming pools, bike hire facilities, and the Trullalleri Kids Club for children. It is the ideal destination if you are looking for an unforgettable luxurious experience offering a variety of amenities and services, including uniquely designed accommodations, exquisite dining options, spa experiences and excellent shopping opportunities.
Are you dreaming of a luxurious holiday, but don't want to pay sky-high prices? Design Holidays have the perfect solution for you. With vast experience in providing luxury family holidays, Design Holidays can beat the prices you would receive if you went direct to your chosen destination. And the best part is that they offer an even better rate with room upgrades included – so you can experience unconditional luxury at Borgo Egnazia Resort. Enjoy all the freedom and relaxation that a luxury holiday can bring, without having to break the bank. Let us show you how!
Overview Of Borgo Egnazia Resort
Borgo Egnazia is a luxurious Mediterranean resort in Puglia, Italy. Located on a spectacular cliff overlooking the Adriatic Sea, it offers its guests an unparalleled experience of Italian hospitality and culture. This exclusive resort features Vair Spa, a championship golf course, beach clubs and private beaches – all designed to make your stay as comfortable and enjoyable as possible.
For those looking for a more intimate experience, Borgo Egnazia also offers guests the chance to stay in one of their luxury villas. These villas come with all the amenities you would expect from a 5-star resort, including private pools and spa facilities. The golf course at Borgo Egnazia is an 18-hole championship course that has been designed to challenge even seasoned golfers. For those who prefer to relax on the beach, Borgo Egnazia also boasts two beach clubs where you can enjoy sunbathing or take part in various activities such as kayaking and windsurfing.
Whether you are looking for a romantic getaway or simply want to unwind and enjoy some restful days in one of Italy's most beautiful regions, Borgo Egnazia is the perfect destination for an unforgettable holiday experience.
Luxury Amenities & Services Offered By Borgo Egnazia Resort
Borgo Egnazia Resort offers a perfect luxury getaway for the whole family. From private pool villas to their world-renowned San Domenico Golf course, the resort has something to offer everyone.
Guests can experience first-class hospitality in their La Corte accommodation, which offers its own private pool, garden and terrace. For those seeking a more relaxed atmosphere, the Beach Club is the perfect spot for lounging by the sea, while the Family Friendly Pool allows parents to keep an eye on their children while they enjoy themselves. Kids will love playing in the Kids Club where they can take part in fun activities with trained professionals who know how to make sure your little ones are entertained.
With all these features and amenities available at Borgo Egnazia Resort, you can be sure that any stay here will be truly luxurious and unforgettable. Whether you're looking for a holiday of relaxation or adventure, Borgo Egnazia Resort provides it with all — so why not come and experience it for yourself? From its world-class golf course to its luxurious private pool villas overlooking the Mediterranean Sea, Borgo Egnazia Resort has top-notch service quality with something special for demanding guests looking for an escape from everyday life.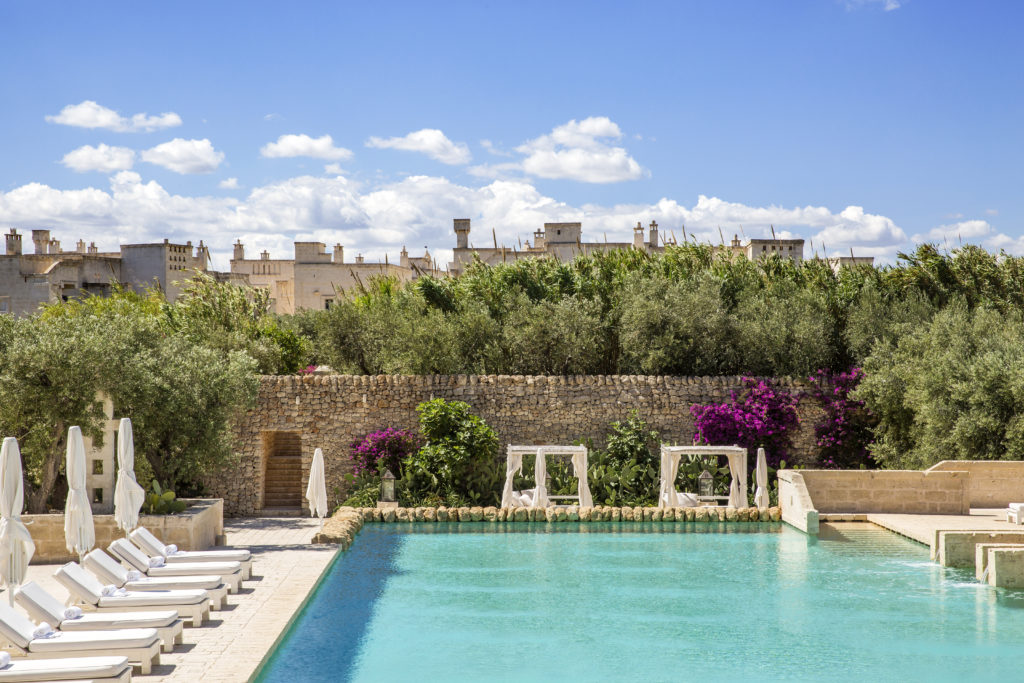 Uniquely Designed Accommodations At Borgo Egnazia Resort
Borgo Egnazia Resort in Puglia, Italy offers its guests the chance to experience an unparalleled level of luxury in its uniquely designed accommodations. With its La Corte Bella room offering modern luxury influences, along with a private patio, guests can take advantage of the resort's four swimming pools and enjoy their holiday in luxurious comfort. The unique trulli-style architecture provides an atmosphere that ensures a memorable stay.
At Borgo Egnazia Resort, you can experience true Italian hospitality combined with refined elegance and modern amenities. From the four swimming pools to the private patios offered by the La Corte Bella rooms, you'll have access to all the comforts of home while enjoying your luxury holiday at one of the top resorts in Italy. With its traditional trulli architecture and modern amenities, Borgo Egnazia Resort is a perfect choice for those seeking a truly luxurious escape. Enjoy an unforgettable experience when you choose Borgo Egnazia Resort for your luxury vacation with Design Holidays.
Dining Options At Borgo Egnazia Resort
Borgo Egnazia Resort offers a range of dining experiences to ensure guests will enjoy their stay. The resort offers four restaurants, each with its own unique atmosphere and specialties. La Frasca Restaurant is the main restaurant in the resort, serving traditional Italian dishes with a contemporary twist. For those looking for something more casual, Mia Cucina serves classic Italian pizzas, pastas and salads, while La Fonte is perfect for an al fresco lunch. Wi-Fi is free in all the restaurants, making it easy to stay connected during your meal.
Villa guests have access to their own private dining area, where they can enjoy meals prepared by experienced chefs in a tranquil setting. Double rooms also feature their own private dining area, while all guests can also take advantage of room service for an added touch of convenience during their stay.
At Borgo Egnazia Resort, there are plenty of options to accommodate all tastes and palates when it comes to dining choices. With free wifi and private areas for villa guests and double rooms, everyone can experience luxury dining at its best.
Spa Experiences At Borgo Egnazia Resort
Borgo Egnazia Resort offers a range of spa experiences to ensure guests can experience unconditional luxury. Guests can relax and unwind with Roman bath rituals and exclusive luxury facilities.
For an even more luxurious experience, Borgo Egnazia Resort provides access to some of the best spas in the area. Guests can enjoy a wide selection of treatments including massage therapy, body scrubs and facials. The spa also offers a variety of packages to suit everyone's needs, whether it's relaxation or wellness you're after, there is something for everyone! With its peaceful setting and top-notch facilities, Borgo Egnazia Resort ensures that each guest's stay is as luxurious as possible.
Activities & Excursions Available At Borgo Egnazia Resort
Borgo Egnazia Resort, located in the idyllic region of Southern Italy, is a luxury destination for travellers seeking rest and relaxation. This resort offers a range of activities and excursions that make it ideal for those looking to explore the beauty of the Adriatic Sea. From championship golf courses to Cala Masciola Beach Club, guests can enjoy a variety of activities while still experiencing all the luxuries that Borgo Egnazia has to offer.
The resort also boasts its own swimming pool, fitness centre, and spa facilities. Guests can take advantage of these amenities as well as complimentary bike rentals and guided tours around the grounds. The resort lies close to the beach where visitors can take part in windsurfing, sailing, kayaking or even scuba diving. For those who want to get away from it all, there are plenty of secluded spots to relax and soak up some sun.
Whether you're looking for a romantic getaway or an action-packed holiday with your family, Borgo Egnazia Resort has something for everyone. Enjoy unparalleled luxury surrounded by stunning landscapes where you can take part in exciting activities on land or sea. You can also simply relax by the pool or at one of the many restaurants and bars, experiencing unconditional luxury at Borgo Egnazia Resort!
Contact one of our expert team on 01444 87 2200 or send us an email at enquiries@designholidays.co.uk and let us help you create an unforgettable holiday experience with unbeatable prices and unparalleled luxury!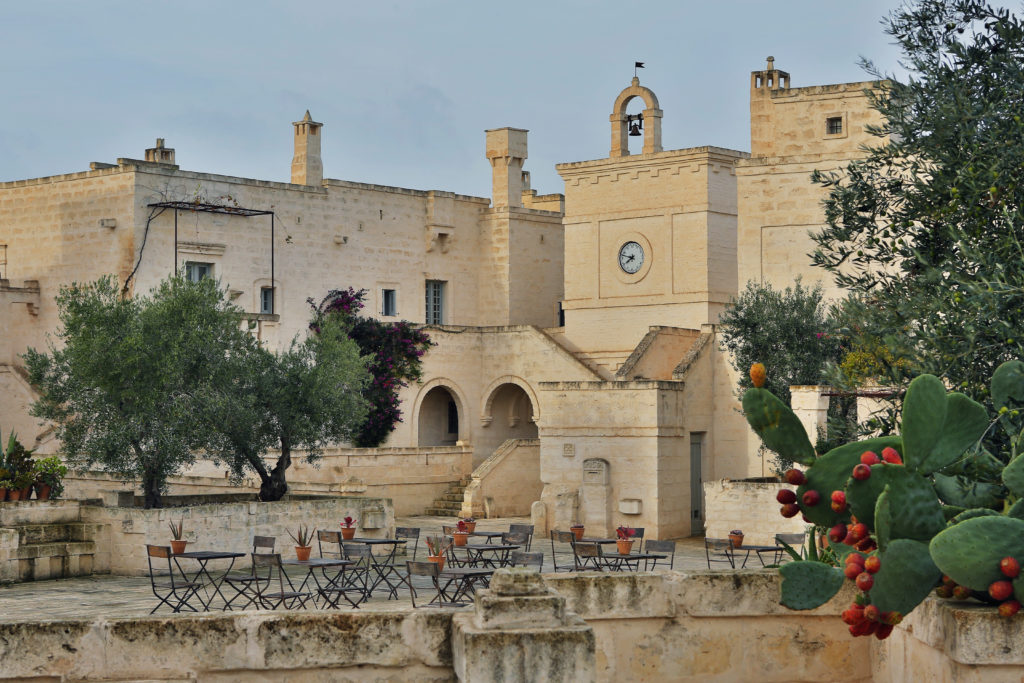 Shopping Opportunities At Borgo Egnazia Resort
Borgo Egnazia Resort offers a variety of shopping opportunities for those looking to experience luxury during their stay. Whether guests want to explore the private garden, Central Piazza, or take in the modern luxury of the Borgo Village, there are plenty of ways to indulge in an unforgettable shopping experience while staying at Borgo Egnazia Resort.
The resort also boasts a range of shops that blend traditional craftsmanship with modern luxury. Guests can enjoy browsing through designer boutiques, artisanal stores, and local handicrafts on the roof terrace or in the Central Piazza. For golfers, San Domenico Golf Club is within easy reach and offers apparel and equipment to enhance your game.
For those seeking truly unique items as souvenirs or gifts, Borgo Egnazia Resort has something for everyone. From local specialties to designer clothes and accessories, each shop is sure to please even the most discerning shopper. With its mix of modern amenities and traditional Italian charm, Borgo Egnazia Resort provides a luxurious shopping experience unlike any other.
Why Borgo Egnazia Resort Is Perfect For Families
Design Holidays brings you the opportunity to experience unforgettable luxury at Borgo Egnazia Resort, in Italy. The resort offers a variety of amenities and activities for families to enjoy, from Bar del Portico and La Corte Magnifica, to two beach clubs and a heated pool. Free parking is also available, as well as access to a stunning sandy beach guaranteeing the delight of all family.
At Borgo Egnazia Resort, there are plenty of activities for all ages, so you can make sure your family holiday is filled with fun and relaxation. From high-end shopping opportunities to swimming in the heated pool or taking a stroll along the sandy beach – every member of the family will be able to find something they love here. With excellent customer service and unbeatable prices when booking through Design Holidays, Borgo Egnazia Resort promises an unforgettable experience for any family looking for a luxurious holiday escape.
Nightlife & Entertainment At Borgo Egnazia Resort
Borgo Egnazia Resort offers a unique nightlife and entertainment experience for families looking for an unforgettable vacation. Located in the nearby hills of Puglia, Italy, this luxury resort features a variety of activities and amenities to make your stay enjoyable.
Il Borgo, or "The Village", is the main hub of activity at Borgo Egnazia Resort with its collection of restaurants, bars, and shops. There are also several cultural activities that run throughout the day such as cooking classes and wine tastings. For those who want to explore the area further, there are plenty of excursions available like boat trips around the nearby islands or trekking through the countryside.
The resort also has two open-air clubs: Corte Magnifica and La Frasca where you can enjoy live music and DJs playing until late into the night. Both clubs offer a variety of drinks and snacks as well as spectacular views over the nearby hills. If you want to add some extra luxury to your holiday experience, then why not book one of the exclusive villas at Villa Meravigliosa or Villa Magnifica? Each villa features its own private pool and terrace for you to relax in after a long day exploring all that Borgo Egnazia Resort has to offer.
With so much on offer from Borgo Egnazia Resort's nightlife & entertainment options, you're guaranteed an unforgettable family holiday experience!
Booking Your Luxury Holiday At Borgo Egnazia Resort
Planning a luxury holiday at the Borgo Egnazia Resort is a dream come true for many. This luxurious resort offers stunning views of the Adriatic Sea and nearby hills. Built on the site of an ancient fishing village, the resort has preserved its traditional Italian charm while offering modern amenities to guests staying there. From a private terrace overlooking lush gardens to rooftops with incredible vistas, Borgo Egnazia has something for everyone. Guests can relax in spacious living areas or spend time exploring the resort's many activities and attractions.
For a truly memorable experience, guests can book one of the resort's many villas or suites with private terraces and balconies. Each villa is designed to provide maximum comfort and privacy while also providing access to all that Borgo Egnazia has to offer. Whether you are looking for an intimate getaway or an opportunity to explore Italy's vibrant culture and cuisine, booking your luxury holiday at Borgo Egnazia is sure to be an unforgettable experience.
With Design Holidays arranging your stay, you can rest assured that you will receive unbeatable prices on a range of luxury holidays as well as room upgrades making your trip even more luxurious than you could have imagined. Enjoy an exceptional experience and make memories that will last a lifetime when booking your stay at Borgo Egnazia Resort.
Contact one of our expert team members on 01444 87 2200 or send us an email at enquiries@designholidays.co.uk to discover how can we help you book an unforgettable luxury holiday at Borgo Egnazia Resort.
Related Articles