Forte Village Sardinia
As a preferred travel partner for the Forte Village, Design Holidays have the best rates available for Forte Village Sardinia luxury resorts, Forte Village Sardinia hotels, and Forte Village villas. Contact us now for your preferential quotation provided by our expert  Forte Village Sardinia Reservations Team who all have personal knowledge of the resort.
Design Holidays are proud to present our specialist division www.designholidaysfortevillage.co.uk
View the latest Forte Village Video
Open from Easter
Forte Village Resort is a fabulous hotel and resort set in the beautiful city of Sardinia in Italy, just along the coastline from the main town. The Forte Village complex is just east from Pinus Village and West of Pula. Forte Village is on the coast, connected to other areas of Sardina by the SS195. Forte Village is a short 30-minute drive from Cagliari Airport.
The predominant language spoken in Forte Village, Sardinia, is Italian, but English is also widely spoken too. This makes it easy for tourists who only speak English to get by easily.
Forte Village is a 55-acre resort, surrounded by beautiful gardens, trails, and buildings; there are a number of mountains around, which protect the resort from the winds from the north.
Forte Village hosts a wide variety of activities and holiday attractions that make it one of the top travel destinations in Sardinia, Italy. The resort has also won a number of awards, including World's Leading Resort 2018.
 Forte Village Sardinia Special Family Offers include Free Child Places plus 15% discount.  Couples Offers with up to 20% off  plus 1 Free Thalasso experience entrance and 1 Gourmet Dinner experience (beverages excluded) / Repeat Guests Offer €300 Resort Credits
Design Holidays are the Forte Village Sardinia Specialists and offer holidays with accommodation Half Board (inc 1/2 bottle of wine and mineral water when dining at the Pineta restaurant) at the Forte Village. For  Forte Village Sardinia Holidays please free to put our knowledge to the test and call our Forte Village team on 01444 87 22 00 .
For our latest Forte Village offers call our Forte Village Holiday advisors on 01444 87 22 00.
Hot this Summer at Forte Village…..
Forte Village Arena has a great line up of shows for summer.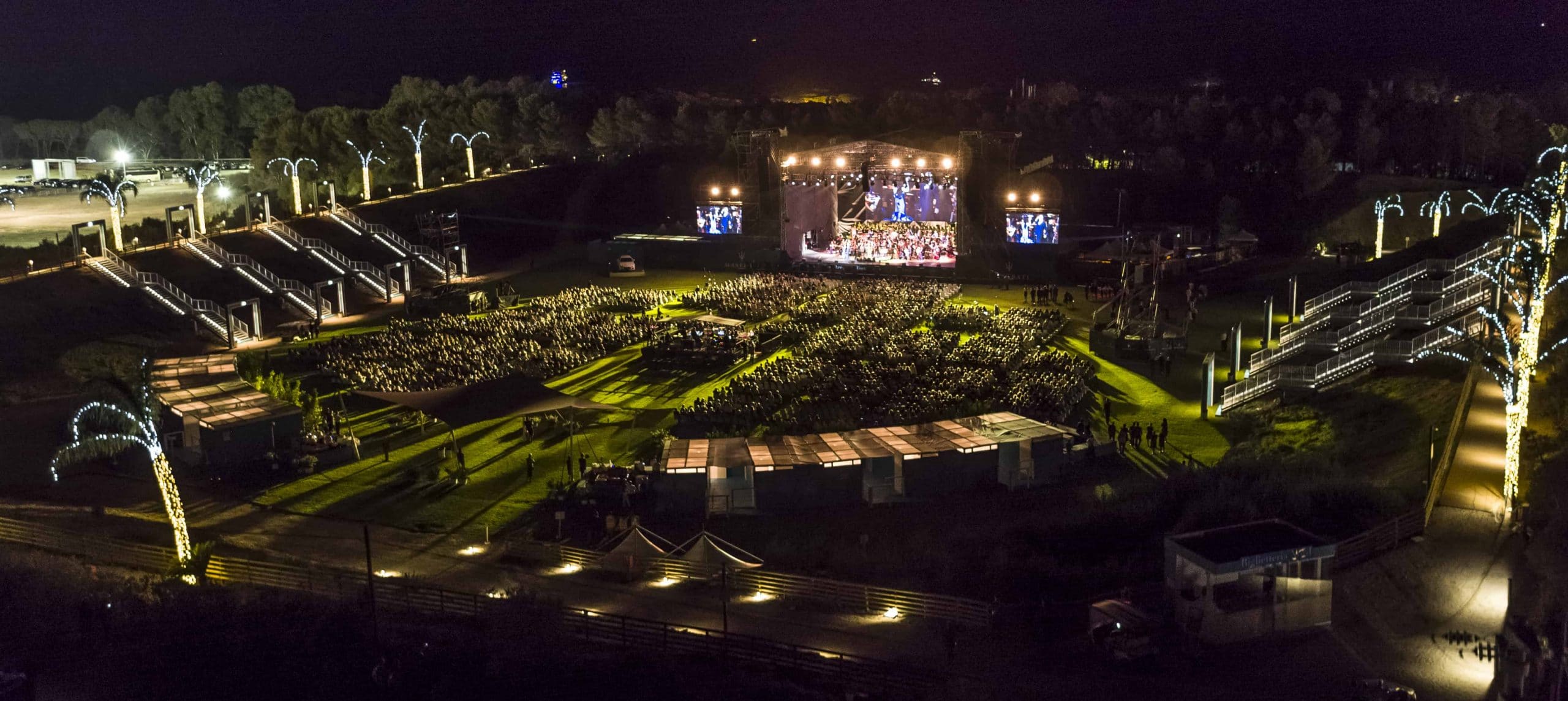 Previous artists have included Sting / Andrea Bocelli & Anastasia.
Forte Village Arena
For more information on the fabulous Forte Village shows , please call our specialist Forte Village booking team on 01444 87 2200.
The Forte Village boasts extensive sports facilities with 8 individual hotels located in the resort ranging from four to five-stars.
As the winner of 'World's Leading Resort' every year since 1998, Forte Village is a luxury resort in Sardinia set within 55 acres of pine forest and subtropical gardens, next to a dazzling white beach at the southern tip of thus luxurious island – where the seawater is crystal clear!
The Forte Village boasts extensive sports facilities with 8 individual hotels located in the resort ranging from four to five-stars. Guests at the  Forte Village Sardinia can enjoy a white sandy beach stretching for over a mile with an exciting array of watersports , 14 bars, 21 restaurants, evening entertainment as well as a Health Spa and a children's wonderland village.
Quite simply the  Forte Village Sardinia is the luxury resort whether you are looking for an idyllic family holiday or Honeymoon in Sardinia.
Due to our fabulous relationship with the Forte Village, Design Holidays are pleased to offer the best possible rates at this well located resort for all of the hotels.
Forte Village Sports & Leisure Facilities
Forte Village Sardinia offers a vast array of leisure and sporting facilities that includes The Chelsea Soccer Academy, 12 floodlit tennis courts (10 red clay courts, one natural grass court and one synthetic court), the nearby Is Molas Golf Club, and a number of mini soccer, basketball and volleyball courts. Further activities include jogging, aerobics, swimming, water-polo tournaments, soccer and table tennis.
Guests of the Forte Village Sardinia resort can take a wide variety of courses at the Forte Village Academies, under the guidance of the Forte Village qualified instructors. The cost of your package includes the use of most facilities, but does not include the academies, bicycle rentals, use of the red clay tennis courts, tennis racquet and other equipment rentals, the gym, water sports, sports lessons, horse riding, scuba diving and Acquaforte Spa treatments and use of the Thalasso pools for detox and relaxation.
Look out for the fabulous Forte Village Cycling Academy with Cycling legend Mario Cipollini regularly on resort.
Forte Village Restaurants & Bars
The  Forte Village Sardinia boasts 21 restaurants in high season including numerous small, characteristic restaurants. For dinner guests may choose between their hotel restaurant, other restaurants included in the half board rate such as Forte Grill, Sardinian and Brazilian Restaurants and all the other gourmet and fine dining restaurants though reservations may be needed for these and, an additional charge may have to be paid. Beverages are always excluded, except at the Pineta buffet restaurant, where a half bottle of house wine per person and mineral water are included in the price. Lunch is an extra and served in a variety of poolside and sea side outlets including the Fish Market restaurant and a popular pizzeria. Management reserves the right to open / close restaurants and modify menus, even without prior notice and during the season.
Forte Village Sardinia In Room Facilities
Air conditioning
Bath with shower and bath with separate showers
Computer Dataport
CD player(on request)
Fax machine(on request)
Fresh fruit
Full length mirror
Hairdryer
Inter connecting rooms
Laundry service
Minibar
Remote-controlled for satellite TV
Room service(8am-9.30pm)
Safety deposit box/In-room safe
Satellite television
Smoke detectors
Stereo/Hi-Fi/CDplayer(inSuites)
Umbrellas(on request at reception)
Voicemail
Voltage 220
Wake up call
Children at  Forte Village Sardinia
Children's Wonderland is a paradise for children of every age, a stimulating world to discover. Parents can entrust their children (aged 2-12years) to the Mini Club, a place where they can make friends and have fun, all under the supervision of the well-trained Forte Village Children's Wonderland staff. Infants aged 0 to 2 years are charged per child per hour, while children aged 2 to 12 years old are free of charge. There is also an Aquapark with exciting slides and a dedicated children's restaurant.
Open – 9:00 am to 1:00 pm and 2:00 pm to 6:00 pm, seven days.
Top attractions in Forte Village
Forte Village is spolit with entertainment and relaxation opportunities within the resort. Forte has sporting facilities, like football pitches and tennis courts, world-class spas for unique treatments, delicious Italian cuisine, the fabulous 'Wonderland' for children, and much more.
Forte Village resort provides an enabling environment for sports, in terms of facilities, coaches, and space. Guests at Forte Village can enjoy their vacation and still engage in the sport they love – indoors or outside and be surrounded by the beautiful sites of Sardinia.
Some of the popular sports activities in Forte Village include Basketball, Tennis, Football, Diving, Golf, Watersports, and Jogging.
Forte Village has a special place dedicated to kids, called Wonderland. Parents can leave their kids to enjoy themselves here, while they experience the rejuvenating benefits of Acquaforte Thalasso & Spa. The Forte Village Spa has a reputation for using original and effective methods, to detoxify and generally improve the body and relax the mind.
The evenings in Forte Village, Sardinia, are marked by entertainment out in the open. Local and international entertainers take the stage.
Restaurants in Forte Village, Sardinia
Forte Village has 21 restaurants, serving sumptuous Italian meals, foreign cuisine, and gourmet delicacies. Some of the top shots include Belvedere restaurant, Forte Grill, La Terrazza San Domenico, Cavalieri, and the list goes on.
Forte Village also features a Gourmet Cooking Academy, which is facilitated by some of the best chefs at the resort. Tourists who are interested in learning how the magic is done are welcome.
Accommodations in Forte Village, Sardinia
Forte Village resort has a wide range of exquisite accommodations for guests. There are 8 luxury hotels, 11 villas, and 40 suites. Some of these hotels offer a clear view of the sea in Sardinia, others have a view of the beautiful tropical gardens of Sardinia.
Some of the choice hotels in Forte Village are Castello Garden, Villa del Parco & Spa, Le Dune, Le Palme, and Waterfront Suites.
A resort worth visiting
Forte Village is one of the best places to go to spend your summer holiday and enjoy every second of your annual leave. The resort has all you need and more. An unforgettable travel experience awaits you.
Holidays in Sardinia
Sardinia Forte Village Resorts
Sardinia Hotels
Holidays In Europe
Set on the edge of Sandy Bay and hidden amongst 55 acres of pine trees, the  Forte Village Sardinia hotel is located to the south of the Italian island of Sardinia. From the airport or the harbour take the "Statale" SS 195 direction Pula-Teulada.