Experience Unconditional Luxury At Ikos Andalusia All-Inclusive Resort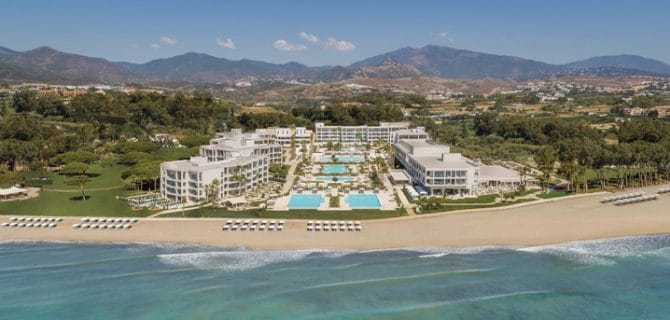 Have you ever dreamed of experiencing the ultimate in luxury and relaxation? Then look no further than Ikos Andalusia All-Inclusive Resort!
This stunning resort offers the perfect combination of opulence and tranquillity, creating an unforgettable experience for guests. With its beautiful setting, luxurious amenities and world-class service, it's easy to see why this resort is widely regarded as one of the most sought-after holiday destinations. Whether you're looking for a romantic getaway or a family escape, Ikos Andalusia All-Inclusive Resort is sure to exceed your expectations.
At Design Holidays, we understand that everyone deserves to enjoy the freedom and luxury of a true getaway. That's why we strive to provide our clients with the best value for their money when it comes to booking their holiday at Ikos Andalusia All-Inclusive Resort.
Overview Of Ikos Andalusia Resort
Ikos Andalusia Resort is the perfect destination for those wishing to experience luxury and relaxation. Situated in Estepona, the resort boasts a stunning setting surrounded by beautiful beaches and mountains.
Ikos Andalusia All-Inclusive Resort offers an experience of unparalleled luxury and service. From its exquisitely designed accommodations to its top-notch amenities and services, it is the ideal destination for a luxurious holiday. The all-inclusive package includes gourmet dining options, spa experiences, childcare services, and plenty of entertainment. Guests can also enjoy a range of activities from golfing to water sports. Not only does Ikos Andalusia provide guests with luxury comforts but also caters to families with its unique childcare and kids club services. Additionally, Ikos Andalusia offers unbeatable value for money as the all-inclusive package includes meals, snacks and beverages at no extra cost.
With its impeccable service, world-class facilities, and modern design, Ikos Andalusia is sure to exceed your expectations.
Luxury Amenities & Services Offered By Ikos Andalusia Resort
At Ikos Andalusia Resort, guests can experience an all-inclusive luxury resort that offers world-class amenities and services. From the moment they arrive, guests will be immersed in a five-star paradise where every need is catered to and pampered with the finest hospitality.
Whether it's relaxing in the spa, enjoying a swim in one of the many pools or lounging on the beach, guests will find something to suit their needs. The resort also features an array of exquisite dining options, ranging from traditional Spanish cuisine to international flavours.
Guests can also take advantage of exclusive concierge services such as airport transfers, car rentals and grocery shopping assistance.
With its luxurious accommodations and attentive service staff, Ikos Andalusia Resort provides a truly unforgettable experience for its guests.
Uniquely Designed Accommodations At Ikos Andalusia Resort
At Ikos Andalusia Resort, experience an unforgettable stay in luxurious accommodations. Whether it is a family vacation or a romantic getaway, this all-inclusive resort offers the perfect backdrop for a memorable holiday. All of the suites, villas and rooms have been carefully crafted with modern amenities to ensure that guests are comfortable and enjoy a top-notch experience. From chic décor to spacious layouts, Ikos Andalusia Resort provides a unique luxury stay for each guest.
The resort's wide range of accommodation options offers something for everyone. From deluxe Family Suites with two bedrooms and private balconies to the Royal Villa complete with two master bedrooms and its own private pool, Ikos Andalusia Resort has something to suit every taste. All rooms come with air conditioning, satellite TV and Wi-Fi as standard. For added convenience, many rooms also offer complimentary access to the onsite spa and fitness centre as well as discounts at dining outlets throughout the resort.
Dining Options At Ikos Andalusia Resort
At Ikos Andalusia Resort, you'll experience unparalleled luxury with a variety of delicious dining options. From fine Italian cuisine to traditional Greek specialities, there's something for everyone. Enjoy an exquisite meal in the main restaurant, or relax in the beachside taverna with a glass of wine and stunning views. For lighter fare, snack on fresh salads and sandwiches at the pool bar. Whether you're looking for a romantic dinner or simple snacks throughout the day, Ikos Andalusia Resort has it all.
For those wanting to indulge in some extra pampering during their stay, the resort offers private dining experiences with personal chefs. Enjoy an intimate evening of gourmet dishes cooked to perfection by experienced professionals while taking in stunning views of the Mediterranean Sea.
With such a selection of options available at Ikos Andalusia Resort, it's easy to find something that perfectly suits your taste and budget. So come enjoy the ultimate moment of relaxation and savour every bite!
Spa Experiences At Ikos Andalusia Resort
Ikos Andalusia Resort is renowned for its luxurious spa experiences, which are designed to help guests relax and unwind. The resort offers an impressive selection of spa treatments and services, including massage therapies, facials, body wraps, manicures and pedicures, waxing, and more. Guests have the opportunity to enjoy a tranquil environment while they receive pampering from professionally trained therapists. Each spa experience is tailored to meet the individual needs of each guest, ensuring a personalised experience that will leave them feeling refreshed and rejuvenated.
The range of treatments available at Ikos Andalusia Resort also includes signature packages that combine several different spa services in one session. Whether you're looking for an indulgent day of relaxation or just a bit of time out from your busy schedule, there's something for everyone at the resort's world-class spa. From holistic therapies to aromatherapy sessions, visitors can be sure that their experience at Ikos Andalusia Resort will be truly unforgettable.
With its luxurious amenities, services and stunning views over the surrounding countryside, it's no wonder that this all-inclusive resort has become so popular with travellers looking for an escape from their everyday lives.
Activities & Excursions Available At Ikos Andalusia Resort
At Ikos Andalusia Resort, guests have an array of activities and excursions available for them to enjoy. From water sports like kayaking and paddle boarding to exploring the area's historical sites and wildlife, there's something for everyone. Whether you wish to take a leisurely stroll along the beach or take part in adrenaline-filled experiences such as mountain biking or rock climbing, this luxurious resort covers it all.
The resort also provides a range of family-friendly activities that are sure to keep everyone entertained. From relaxing yoga classes to exciting boat trips and more, there is something for everyone at Ikos Andalusia Resort. There is even a kids club offering supervised activities, so parents can relax while their children explore the great outdoors and make new friends. For those looking for extra pampering or relaxation, there are also spa treatments available including massages and facials.
Shopping Opportunities At Ikos Andalusia Resort
Ikos Andalusia Resort offers a wide variety of shopping opportunities for visitors to enjoy. The resort is home to several designer boutiques, offering guests the chance to purchase luxury clothing and accessories from world-renowned labels. Additionally, there are a number of local stores selling traditional souvenirs and unique items from the region. With plenty of choices, visitors can find something special to take home with them as a memento of their stay.
Apart from the retail outlets on site, Ikos Andalusia Resort also provides easy access to nearby shopping malls where customers can find anything from electronics and appliances to sporting goods and home décor items. Furthermore, the nearby town of Estepona boasts a vibrant shopping district with an array of independent boutiques, antique shops and artisan galleries – perfect for those looking for something truly unique.
Why Ikos Andalusia Resort Is Perfect For Families
Design Holidays are proud to present Ikos Andalusia Resort, the perfect getaway for families.
At Ikos Andalusia Resort, families can indulge in a range of activities and amenities such as swimming pools, spa treatments, golf courses, tennis courts, playgrounds and more. The resort also offers various shopping opportunities with boutique stores, souvenir shops and local markets – giving everyone plenty of opportunity to take home a lasting reminder of their stay. Additionally, you can also sample regional delicacies at restaurants and bars located around the resort.
For those looking to experience an unforgettable family escape that is both luxurious and affordable, Design Holidays are here to make sure you get exactly what you're looking for.
Ikos Andalusia Resort's Unique Childcare & Kids Club Services
Design Holidays brings you the luxury and exclusivity of Ikos Andalusia Resort in Marbella, Spain. With its all-inclusive packages, families can enjoy a truly special experience in a unique environment. The resort offers an array of childcare and kids club services that make it perfect for families who wish to relax and unwind.
The resort's excellent staff provide safe and secure childcare for children aged 4-12 years old through the Ikos Kids Club. With activities for all ages and abilities, this service allows parents to rest assured that their children are receiving professional care whilst they enjoy some of the many amenities that Ikos Andalusia has to offer. For those looking for a more individual experience, private babysitting services are available.
Ikos Andalusia Resort is the perfect family destination, offering luxury and relaxation coupled with exceptional childcare facilities.
Nightlife & Entertainment At Ikos Andalusia Resort
Ikos Andalusia Resort offers a variety of nightlife and entertainment options for its guests. The resort features a vibrant nightlife with its various bars and lounges, and its nightly entertainment includes live music, DJs and shows. The resort also boasts an array of activities and facilities that guests can enjoy, such as a pool bar, a sports bar, a beach bar and a variety of other bars and lounges. The resort also offers a spa, a fitness centre and a range of water sports and activities. There is also a variety of restaurants offering a range of international cuisine.
Booking Your Luxury Holiday at Ikos Andalusia All-Inclusive Resort
Ikos Andalusia All-Inclusive Resort offers an exclusive and luxurious experience that is second to none. Located in the beautiful Costa del Sol, this fantastic resort offers a variety of activities, outstanding facilities and incredible amenities. Whether you are looking for a romantic getaway or a family holiday, Ikos Andalusia has everything you need to make your stay unforgettable.
Design Holidays have vast experience in providing Luxury Family Holidays. With our expert travel staff on hand to help, we can offer unbeatable prices and room upgrades on our range of luxury holidays. Plus, with our buying power we are able to negotiate better rates than going direct to any of the hotels or resorts we feature. Our aim is to provide the highest quality holidays available at an affordable price – perfect for couples and families alike.
From stunning beaches to world-class restaurants and exciting nightlife, Ikos Andalusia All-Inclusive Resort has something for everyone – so why not choose it for your next getaway? If you're after a truly luxurious holiday that won't break the bank, contact us today at 01444 87 2200 or email enquiries@designholidays.co.uk and let us help you create that dream holiday experience.
Related Articles