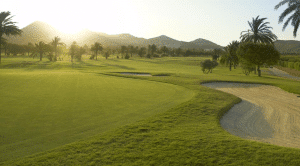 Looking to book the best villas to rent at La Manga ?
If so then Design Holidays are delighted to announce that we have over 280 of the best property to rent at La Manga, with many villas with private pools to rent. However the secret to secure the best La Manga Villas is to book early, as most of our La Manga Villas get rented year on year by the same families.
La Manga Villa rentals range from £899 – £5500 per week and range from 2 bedroom to 7 bedroom villas with pools.
(Family Friendly villas at La Manga)
What we say : ' La Manga is probably the best resort in Europe for a family villa holiday, with a selection of not only the best villas to rent but a fabulous family friendly environment. Kids Club, tennis, golf , beach , watersports, spa horse riding, 28 restaurants / bars & much more.' says Sue Hildreth Sales Manager and La Manga villa rental specialist at Design Holidays since 2002.
(3 Championship Golf Courses at La Manga Club)
For more information on our villas to rent at La Manga, please visit our website or contact our La Manga Villa rental team on 01444 87 22 00 / enquiries@designholidays.co.uk
Related Articles