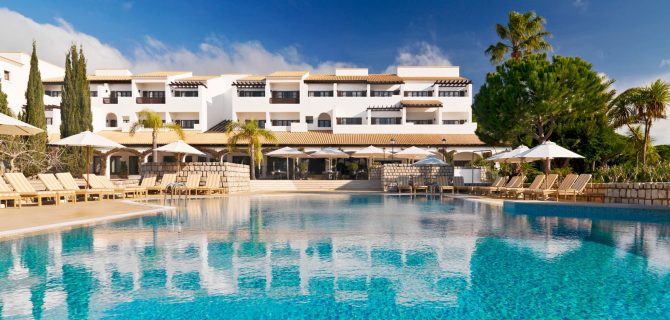 Still not booked your family luxury holiday this summer ?
(Most of our family resorts have watersports)
If not then check out our carefully selected family friendly 5 star resorts, that represent luxury for all the family with free sports / kids clubs / half board upgrades on selected dates.
(Most of our family resorts have football academies during school holidays)
Our top 10 family holiday resorts include :
La Manga Club – South East Spain : 4 bedroom Villa with pools (sleeps 8 ) from £1321 per week in May half term / Hotel inter connecting rooms (sleeps 4) from £1846 per week in July / August.
Monte da Quinta – Algarve : 2 bedroom Hotel suites (sleeps 4) from £2739  per week in July / August / 4 bedroom villa with pool (sleeps 8 ) October Half Term from £2328 per week
Abama – Tenerife : Family inter connecting rooms (sleeps 4) from £1662 per week in Jubilee Week i.e 2nd – 9th June
Aphrodite Hills – Cyprus : 4 bedroom villas with pools (sleeps 8 ) from £2638 per week in July / August / Hotel inter connecting rooms (sleeps 4) from £2597
Sheraton – Algarve : 2 bedroom Residence apartments (sleeps 4) from £1319 per week in Jubilee Week i.e 2nd – 9th June
Martinhal – Algarve : 2 bedroom villas with ocean views (sleeps 4) from £207 per week 3rd – 10th June
Forte Village – Sardinia : Family Bungalows (sleeps 4) from £2583 per week 25th August – 7 nights
Sani Beach – Greece : Junior Suite with Garden + Half Board (sleeps 4) from £2773 per week 7th – 14th July
Las Lomas Pueblo – Marbella : 4 bedroom Luxury Townhouse villa (sleeps 6) from £2398 per week in July / August
Princesa Yaiza – Lanzarote : 2 bedroom Family suites (sleeps 4) from £2530 per week in August
(Almost all of our family resorts have tennis coaching for children)
For further information on any of our family friendly luxury resorts, please visit our website blog.designholidays.co.uk or contact our reservations team on 01444 87 22 00 / Email enquiries@designholidays.co.uk
Design Holidays are delighted to represent : www.lamanga.co.uk  & www.fortevillage.co.uk
Related Articles