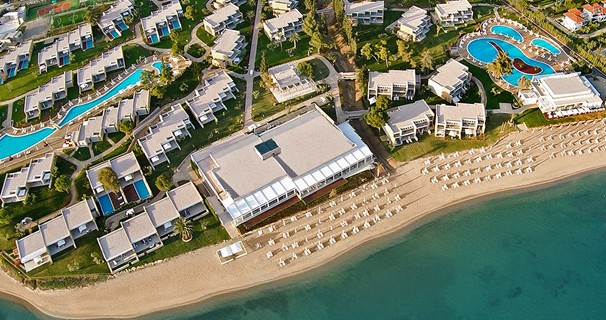 Ever wondered if there was such a thing as an exclusive 5 star all inclusive holiday resort ?
If like us you were naturally inquisitive as to find out if there was one, we sent our Design Holidays co founder Johnny Barr and his family in search of it at the Ikos Olivia in Halkidiki, Greece.


Q: What did you think of Ikos Olivia ?
JB : We absolutely loved it, a perfect mix of 5 star hotel, meets beach holiday meets fine dining.
Q : What was your room like ?
JB : We had a 1 bedroom Bungalow with bedroom and lounge overlooking the golden sandy beach, were were also fortunate to be on the 1st floor so slept with our windows open and could hear the gentle sea gliding over the sand – so soothing to wake up to. The bottle of Taitinger champagne for all deluxe guests is a very nice touch.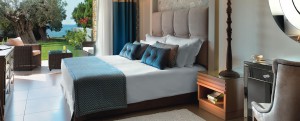 Q : You have teenage children , so what did you think of the Ikos childrens / sports facilities ?
JB : With a  12 & 14 year old they were too old for the kids club (which was marvelous actually and involved lots of activities inside and outside), so they used the sports facilities all day long – think padel boarding / kayaking / sailing / 5 a side football / beach volleyball / basketball and evening musical shows etc.
Q : What did you think of the Ikos Olivia restaurants ?
JB : We absolutely loved them, 4 fine dining a la carte (2 have Michelin star chefs) and 1 marvelous buffet restaurant are a great mix, and with a choice of a different venue for breakfast , lunch & dinner we never got bored of any menu nor vista although the Greek Ouzo restaurant overlooking the beach takes some beating!
Q: What was the best thing about Ikos Olivia ?
JB : Choosing whatever you want on resort at anytime of day and know that it is included.
Q: When will you return to Ikos ?
JB : For sure in October and most likely again at Easter next year, although we might even be daring and look at our latest Ikos Dassia Resort.
Design Holidays are a lead travel partner for Ikos Resorts , and all of our reservations team are fully trained and know the Ikos Resorts well.
Ikos Reservations : Telephone 01444 87 22 00 / Ikos Website 


Related Articles