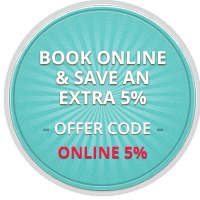 La Quinta Club
La Quinta Club at La Manga
Choose a 'duplex linked' villa to rent at La Quinta Club one of the best located properties at the La Manga Club resort. With the choice of accommodation ranging from a villa rental next to the pool or a villa overlooking the par 47 golf course sea and La Manga beyond.
Design Holidays are pleased to offer the best rental rates guaranteed for all our La Quinta Club villa rentals at La Manga Club
5% off on selected travel dates exclusive to Design Holidays
Features
La Quinta Club at La Manga
Best online rates to book La Quinta Club villas at La Manga Club
View / Book / Check Availability
2 bedroom / 2 bathroom La Quinta Villas at La Manga Club from £449 per week
3 bedroom / 3 bathroom La Quinta Villas at La Manga Club from £582 per week
Widely regarded as the 'club within a club' at La Manga Club. A villa rental at La Quinta Club offers you a villa holiday at La Manga Club with all the facilities of a 5 Star Club. As you step into the cool atrium reception area overlooking the tropical poolside gardens you will be overwhelmed by the difference. Whether you choose to be pampered by the clubhouse facilities or relax in the seclusion of your own 'linked' villa – the choice is yours. Each 2 and 3 bedroom villa is nestled on the hillside location within easy reach of every facility at La Manga Club.
Location
Be the first to receive all our latest news and exclusive luxury offers.
Resorts