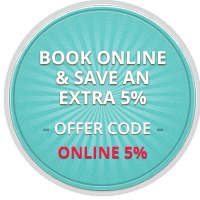 Search and Book Your Luxury Holiday
Cliff Bay
Cliff Bay
Welcome to the most fabulous 5 star luxury hotel in Madeira – The Cliff Bay.
If you have ever imagined overlooking the Atlantic Ocean , being surrounded by the most beautiful gardens with the back drop of the stunning Funchal bay then The Cliff Bay is your imagination running truly wild!
With views over the Atlantic stretching as far as the eye can see, palm fronds gardens, luxury rooms with fine dining, family friendly and fabulous views of Funchal this is our favourite luxury hotel on Madeira.
What we say: 'A true clifftop retreat on the magical island of Madeira, think 5 star rooms, Michelin star dining , breath taking vistas and service to die for. Ideal for couples looking for that romantic trip or families looking for a 5 star service without compromise.'
Features
3 Restaurants & 3 Bars with the only Michelin Star restaurant on Madeira
Indoor / outdoor freshwater heated Swimming pool
Large Seawater pool
Direct / private access to sea
Subtropical gardens
Entertainment programme
Live music 7 days per week
Gym
Spa
Scuba diving lessons available
Tennis court
Tennis lessons available
Table tennis
Snooker room
Free Wifi
Free shuttle bus 7 times a day to Funchal
Rooms
Choose between the many stunning rooms types at the The Cliff Bay from views with Mountain or Ocean views and rooms or suites.
TWIN LAND VIEW
30-42 m2 | up to 3 pax
Feel the calm and tranquility of your room . ..
TWIN SEA VIEW
30-42 m2 | up to 3 pax.
Spoil yourself with one of The Cliff Bay's highlights – the view!
SUPERIOR TOP FLOOR | FUNCHAL VIEW
30-42 m2 | up to 3 pax.
The rooms on the four top floors have a different style in décor.
TWIN FUNCHAL VIEW
30-42 m2 | up to 3 pax.
View over Funchal, the harbour and the Atlantic !
SUPERIOR TOP FLOOR
30-42 m2 | up to 3 pax.
The rooms on the four top floors have a different concept in decoration
TWIN SIDE SEA VIEW
30-42 m2 | up to 3 pax.
A partial view over the sea. Allow yourself to be pampered …
JUNIOR SUITE
40 m2 | up to 3 pax. Total comfort for the perfect stay. With large "queen size" beds and a private veranda overlooking the bay of Funchal, these are ideal surroundings in which to take some time out.
EXECUTIVE SUITE
68 m2 | up to 3 pax. A room with a distinct decoration and exclusive benefits could only contribute for your well-being. Relax and make the most of this space
PENINSULA SUITE
112 m2 | up to 3 pax.
Exceptional… Bedroom, living room, dining room, two bathrooms, luggage room, ample verandas and a sublime view over the sea and the bay of Funchal.
ATLANTIC SUITE
61 m2 | up to 3 pax.
Unwind, gaze at the sea and the gardens which are the setting for your getaway.
Restaurants
From fresh buffet breakfast feasts, snacks to the finest Michelin star dining The Cliff Bay has enough to satisfy the youngest and the most discerning of pallets.
IL GALLO D'ORO
breakfast . dinner
1 Michelin Star
THE ROSE GARDEN
breakfast . dinner
THE BLUE LAGOON
snacks . lunch
LE CLIFF BAR & BISTRO
snacks . lunch . afternoon tea
NAVIGATOR'S LOUNGE
Bar with a view
CACTUS BAR
snacks
AFTERNOON TEA
served inside or in the terrace of Le Cliff Bar.
ROOM SERVICE
24 hours
Pools & Sea
Take your choice of a refreshing dip from the access jetty to
cooling off or do exercise in one of the hotel's pools. One indoor/outdoor and another outdoor, located at sea level with sea water, or enjoy the novelties by the sea: solarium area and an outdoor Jacuzzi with views to Funchal!!
Spa
Recently renovated with 8 treatment rooms, 1 suite, relaxation room, turkish bath, jacuzzi, sauna, gymnasium. Choose from a fabulous selection of body facial treatments, wraps and sports, relaxation, slimming and toning massages, hot stones therapy (geothermal), aromatherapy, jet blitz (hydrotherapy), reflexology. ..
Guests of The Cliff Bay Spa may also enjoy an ESPA boutique, hairdresser, manicure, pedicure and makeup therapists on hand daily.
After your spa treatments lounge on the sun beds with dazzling views of the bay of Funchal and the Atlantic Ocean.
Location
The Cliff Bay is located near the town of Funchal on the magical island of Madeira in the middle of Atlantic Ocean.
The nearest airport to the hotel is Funchal – 20 minutes by taxi.
Be the first to receive all our latest news and exclusive luxury offers.
Resorts