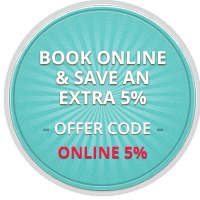 Los Miradores Apartments
Los Miradores Apartments at La Manga Club
Choose an apartment to rent from one of the many villages on the La Manga Club resort in all seasons. With the choice of accommodation ranging from a studio to a penthouse apartment overlooking the sea and beyond.
Design Holidays are pleased to offer the best rental rates guaranteed for all our La Manga Club apartment rentals.
Features
Los Miradores Apartments at La Manga Club
Undoubtedly the best views of La Manga Club are from the hillside of the Los Miradores apartments, which overlook the entire La Manga Club resort. The two bedroom properties all open on to a magnificent terrace, some extending to thirty feet, which are the main feature of these classic apartments. Los Miradores occupies the highest point of the La Manga Club resort, offering breathtaking views of the distant Murcian hills, golf courses and the shimmering blue waters of the Mediterranean Sea. Los Miradores is ideal for guests who prefer the quiet calm and slow pace of life which is the other face of La Manga Club.
Be the first to receive all our latest news and exclusive luxury offers.
Resorts